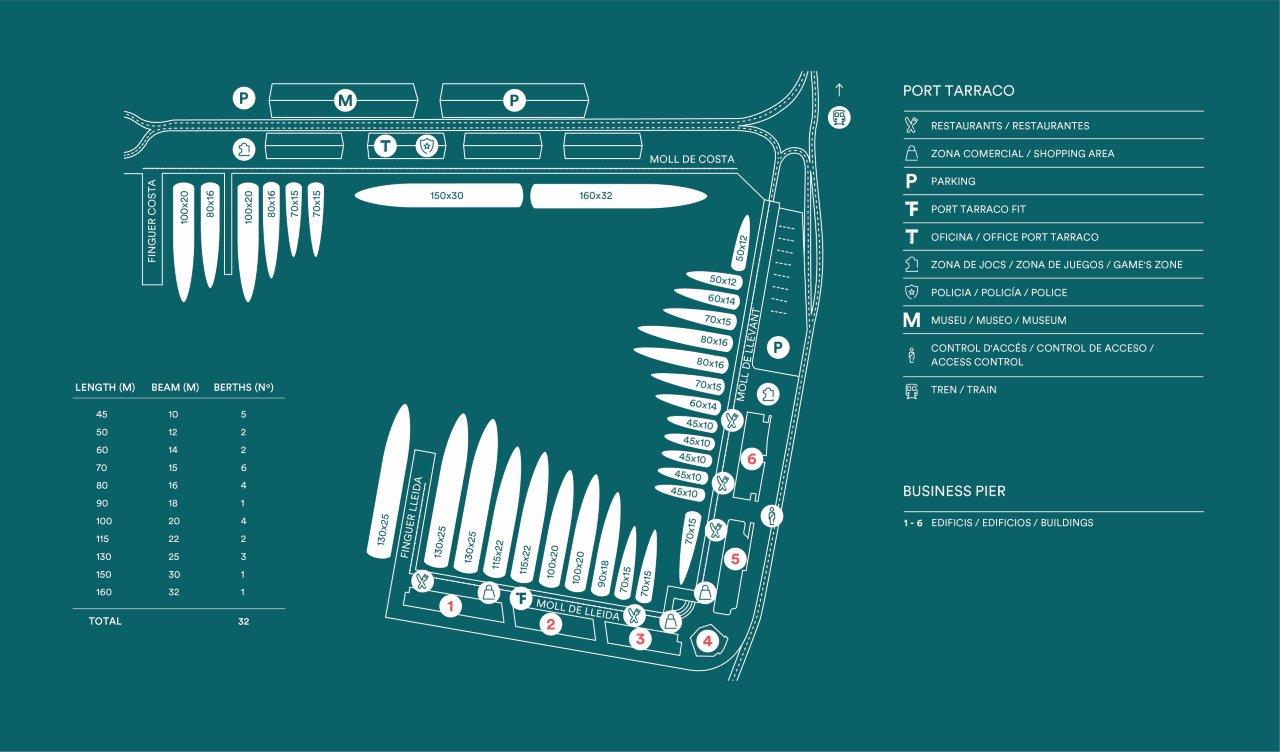 Berth Mix
| LENGTH (m)* | BEAM (m) | SIZE (m2) | BERTHS (nº) |
| --- | --- | --- | --- |
| 45 | 10 | 450 | 5 |
| 50 | 12 | 600 | 2 |
| 60 | 14 | 840 | 2 |
| 70 | 15 | 1,050 | 7 |
| 80 | 16 | 1,280 | 4 |
| 90 | 18 | 1,620 | 3 |
| 100 | 20 | 2,000 | 3 |
| 115 | 22 | 2,530 | 2 |
| 130 | 25 | 3,250 | 3 |
| 150 | 30 | 4,500 | 1 |
| 160 | 32 | 5,120 | 1 |
ISPS code compliant
Authorized Economic Operator (AEO)
33 berths from 45 to 160 metres in lenght
More than 9 metres average draft
Total basin area of 150.000 m2
Waiting dock of 140 metres in length
Electrical outlets up to 1,600 amps at 400 V
6,600 V / 2,000 kVA electrical connection for giga yachts
Wastewater discharge at each berth
Potable water
Internet and satellite TV
Closed circuit television 24-hour security
Exclusive customer service
Commercial and leisure area
Commercial rental space
Storage rooms
Waste pickup MARPOL certificate
Berthing assistance on arrival and departure
Fitness centre
Courtesy van with driver
Marina Port Tarraco, one of the Mediterranean's only marinas with a nine-metre draft, is ideal for deep-water berthing for super, mega and gigayachts.
We have 33 berths, ranging from 45 to 160 metres, as well as first class services and exclusive private facilities.
To complete our extensive offer of services, we collaborate with PTW Shipyard. PTW has top-of-the-line equipment and the capacity to accommodate vessels up to 45 metres in length and 250 metric tons.