MARC COLLS, X-RAY OF A MARINA
Marc Colls, general manager of Port Tarraco since March 2011, shares his reflections on the future of the sector.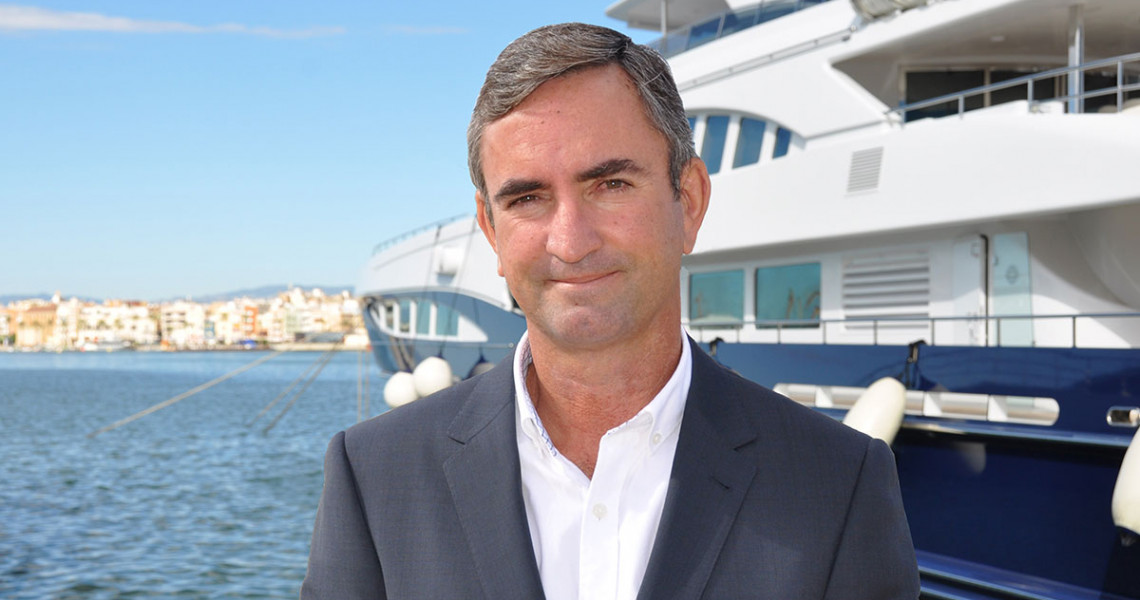 "It's essential to have infrastructure adapted to the size of the boat"
Marc Colls, general manager of Port Tarraco since March 2011, shares his reflections on the future of the sector:
As a sector expert, how do you evaluate the current situation of Mediterranean marinas for large yachts?
It may change from one area of the Mediterranean to another, but generally speaking, it's good. If we consider that 95% of the global yacht fleet spends the summer in the Mediterranean, that the fleet is more numerous each year and that the yachts are growing in size, there's an excellent outlook.
What do you think might be the essential factors or attributes for a successful large-yacht marina in the Mediterranean?
It's important to differentiate between two marina uses: seasonal - specific spots in the Mediterranean in July and August, like Ibiza - and long-stay. These marinas, like Port Tarraco, accommodate boats for long periods, when they're out of service. In the case of long-stay marinas, the first key consideration is to have infrastructure adapted to the size of the boat. A marina that was originally designed for 50-meter boats may be able to accommodate 80-meter vessels, but its infrastructure is not adapted to provide the services a boat of that size needs. This is typical in the Mediterranean because 30 years ago, it was unimaginable that they would end up building recreational boats measuring more than 100 meters. So, most commonly, the infrastructure isn't designed for them. It's like trying to park an elephant in a garage! Small bollards, low electrical power and so on.
Apart from infrastructure, what makes an enclave suitable for a marina in the Mediterranean?
Well, another key point is good logistical positioning: Having services available nearby is essential. For instance, if a boat needs 50,000 liters of fuel, it should be able to get it easily. The marina must be well connected by road to the rest of Europe, and near airports and other methods of transport. What's more, the roads connected to the marina must be equipped to allow large Lorries to circulate, for instance. In short, key considerations are accessibility to services, good transport infrastructure and good positioning.
And what about the human aspect? What about the users?
A third and very important point is to ensure that the crew, the people working on the boat, have facilities available to them: accurate weather forecasts, services and a town nearby. Imagine what it must be like to spend long seasons in a marina, in the middle of nowhere.
Within the global situation of Mediterranean marinas, where does Port Tarraco currently stand?
The special thing about Port Tarraco is that its inner Harbour has space for lots of boats and very large ones. It's currently one of the few - if not the only - Mediterranean marinas with the capacity to simultaneously moor more than half a dozen boats measuring more than 100 meters.  This makes it stand out from the rest. What's more, Port Tarraco is the marina where the largest boats in Spain, if not in the entire Mediterranean, are moored.
Of all the essentials a marina should offer, what's Port Tarraco's greatest strength?
I'd say we're very well positioned regarding all essentials, since we have services, good infrastructure and communications. We're not a marina to spend the tourist season at, but rather one to hibernate at. Port Tarraco is a sort of large-scale car park for boats. In this respect, we have the advantage of being able to offer all the services boats need for long stays.
Does Port Tarraco have any weak points?
At the moment, we're not a final tourist destination, like Ibiza or Saint-Tropez, for many reasons. Perhaps we'll manage to become one in 20 or 30 years' time if Spanish policy changes regarding the draught required for large yachts. On the coasts of Spain, the government has historically considered a boat measuring more than 24 meters to be a cargo ship, which means it can't drop anchor at a beach. The situation is changing little by little, but limitations are still in place, especially in Catalonia. Once we're on an equal footing with the South of France and Balearic Islands, I think we'll see a change.
If these policies should change and Port Tarraco positioned itself as a tourist destination as well, what does it have to attract these seasonal customers?
To be a tourist destination, it's not enough to offer good services and infrastructure: Owners of large boats also want to be somewhere they can drop anchor near the beach. But, if legislation improves, the Costa Daurada is sufficiently attractive to become a tourist destination: excellent beaches, a wide range of leisure options and so on. What's more, at Port Tarraco, we work continually to offer the best possible services, even though whether boats come here as a destination doesn't depend on us, but rather on political decisions, on whether the benefits of having large boats here are recognized. 
Everything can be improved. What are Port Tarraco's plans to improve its service standards?
As far as our immediate plans are concerned, in February, we're beginning works to improve the marina landscape, to make it greener and more welcoming. This is a major investment and we only have to wait for approval from the local council, get the work permits, and get started. We have another project in place to put Port Tarraco on the map as a business area and promote the properties we have available. In relation to longer term improvements, we're working with the Tarragona Port Authority on a project to minimize pollution from the commercial port even further. 
What would you say to a captain wondering whether or not to moor at Port Tarraco or another marina?
That we offer a lot of advantages, and not only because of our facilities and services. We have a great location. Logistically, they'll find it easy to connect with the rest of Europe. We also have powerful industrial and service networks, which offer many of the supplies any boat needs, from fuel to hydraulic electro valves, to give an example.
Also, that it's a very safe port. The area is very quiet.